St George's Day Dinner
The dinner will be held at Kings Norton Golf Club on Saturday 25th April, where we can cater for 180 diners.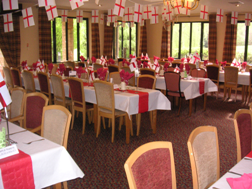 The entertainment will be "Dandy" the popular husband and wife Black Country comedy and music duo. Tickets are £20 each and are available from Kennedys Mica Hardware, 188 – 190 New Road.
We welcome parties of ten people to fill round tables which can accommodate this number. Red and white clothing and favours will be appreciated.
A new event is being planned which will be an afternoon tea party on St George's Day, Thursday April 23rd. Further details will be announced in due course.