Neighbourhood Watch – An Introduction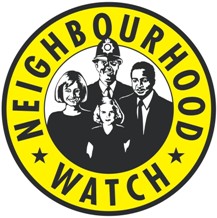 Neighbourhood Watch is one of the most popular and successful crime prevention schemes and is built on the simple idea that by getting together with your neighbours, you can take positive action to help cut local crime.
It gives people the opportunity to work in partnership with their neighbourhood police and other local agencies and make a real difference to their community.
The schemes can be large or small bringing together whole estates or a few houses. Whatever the size, they all share the same objectives which are as follows:

1. To help reduce crime and the opportunities for crime.
2. To inform members of crime prevention techniques.
3. To help and reassure those who live in the area.
4. To encourage neighbourliness and bring communities together.
Would you like to be a member of your local Neighbourhood Watch?
Rubery Neighbourhood Watch is the group looking after roads on the Bromsgrove side of Rubery. For more information please contact: Jim Duggan, Rubery Area Neighbourhood Watch Group, c/o Rubery Police Station, New Road, Rubery.
This group works with and is supported by West Mercia Police – specifically by the Hagley and Rubery safer neighbourhood team. Website
Longbridge Neighbourhood Watch covers roads on the Birmingham side of the border. For details visit their website. Website
This group works with and is supported by West Midlands Police – specifically by the Longbridge Neighbourhood team. Website