Rubery Barn Dance Club
Celebrating 20 Years of great fun and dancing 1994 – 2014
We meet at the Leisure Centre in Holywell Lane, Rubery, B45 9AD on Tuesday evenings from 8pm – 10pm. See map. The club is a very informal meeting of people like you, who want to have a go at a few folk dances, perhaps in a less frenetic environment than a public barn dance. We are a small group, averaging twenty people or so each week, and we try to do a wide mixture of dances ranging from simple fun-to-do dances to more complex dances which need a little more thought and practice.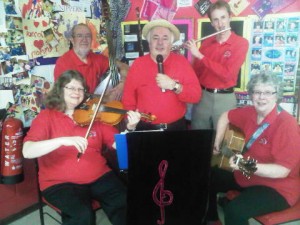 We do dances from a range of sources: American square dances, Traditional, Playford and Pat Shaw… some that I have collected in France and further afield… the range is endless.
Why don't you come along and join in the fun? All we ask is a very modest admission fee of £2.50 and for that you even get a good cuppa and a biscuit thrown in! (no…not thrown into the cup, I don't mean…)
It would be sensible to email ( danseurrouge@yahoo.co.uk) or call me first, just to make sure of the location of our dance hall, and to ensure that we are not for some reason having a "night off". – Telephone 0121 453 4121 or (mobile) 07973 860 140. You might like to write down my mobile phone number in case you get lost on the way – you can phone in for directions.
And. . .
It isn't only Stephen who calls – we have loads of really good callers visit us from time to time: including Barry Jones, Brian Stanton, Roger Middleton, Eve Evans, Amy Burton, and Dennis Chowns.
That, together with the great musicians who come and play for us, makes for a superb evening's dancing, time and again.
Music is normally provided by our in house bands "Treble Clef.