Welcome to St Chad's Rubery!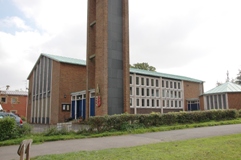 We are a friendly, welcoming Church of England church right in the heart of Rubery who would love the opportunity to welcome you! As a church we are working together to get to know God through Jesus and to make God known in this community.
We hope that everyone who visits feels comfortable enough to share in our worship, to get to know us and above all, to start to get to know God. Our much-loved, accessible building (completed in 1959) is light, airy and (we think) beautiful. So there's no excuse not to come in and say hello!
We gather at 10am on Sunday mornings for a service of Holy Communion, during which we remember the last meal that Jesus had with his friends before he died. The service lasts about an hour and ten minutes and there are hymns, prayers, bible readings and a short talk. There is also a Sunday Club for children and some weeks the children take an active part in the service. We also hold a shorter, 'said' (no hymns!) service of Holy Communion on a Tuesday at 11am.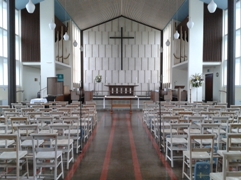 If you're planning to get married, have a child Christened or if you're getting married elsewhere and need your banns of marriage reading in Rubery, please do come along to our Parish Office session which takes place from 7 – 7.30pm on Monday evenings. If that time is tricky, please do just give Rev'd Claire a call.
There's plenty more too – Bingo on Wednesday afternoons, coffee mornings on the third Saturday of the month and an ongoing programme of special services and social events – keep an eye on our facebook page or the church notice board for details. Oh, and if you'd like to hire our well-equipped community room, let us know!
Contact:
Rev'd Claire Turner on 0121 2383168 or revclaireturner@gmail.com
or Church Warden Raewyn Petherick on 0121 453 4570