Cardinal Newman Mystery
His Life
Blessed John Henry Newman CO (21 February 1801 – 11 August 1890), also referred to as Cardinal Newman, was an important figure in the religious history of England in the 19th century. He was known nationally by the mid-1830s.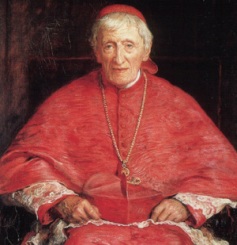 Originally an evangelical Oxford academic and priest in the Church of England, Newman was a leader in the Oxford Movement. This influential grouping of Anglicans wished to return the Church of England to many Catholic beliefs and forms of worship traditional in the medieval times to restore ritual expression.
In 1845 Newman left the Church of England and was received into the Roman Catholic Church where he was eventually granted the rank of cardinal by Pope Leo XIII. He was instrumental in the founding of the Catholic University of Ireland, which evolved into University College, Dublin, today the largest university in Ireland.
Newman's beatification was officially proclaimed by Pope Benedict XVI on 19 September 2010 during his visit to Rubery / Rednal. His canonisation is dependent on the documentation of additional miracles.
Newman was also a literary figure of note: his major writings including his autobiography Apologia Pro Vita Sua (1865–66), the Grammar of Assent (1870), and the poem The Dream of Gerontius (1865), which was set to music in 1900 by Edward Elgar. He wrote the popular hymns "Lead, Kindly Light" and "Praise to the Holiest in the Height" (taken from Gerontius).
His Death
From the latter half of 1886, Newman's health began to fail and he celebrated Mass for the last time on Christmas Day in 1889. On 11 August 1890[3] he died of pneumonia at the Birmingham Oratory. Eight days later his body was buried in the cemetery at Rednal Hill, Birmingham, at the country house of the Oratory. At the time of his death he had been Protodeacon of the Holy Roman Church.
In accordance with his express wishes, Newman was buried in the grave of his lifelong friend Ambrose St. John.
The Missing Body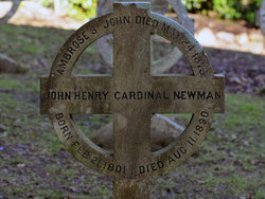 Newman's grave was opened on 2 October 2008, with the intention of moving any remains to a tomb inside Birmingham Oratory for their more convenient veneration as relics during Newman's consideration for sainthood; however, his wooden coffin was found to have disintegrated and no bones were found.
Peter Jennings from the Fathers of the Birmingham Oratory claimed this was because the coffin was wooden and the burial took place at a damp site.
Forensic expert John Hunter, from the University of Birmingham, tested soil samples from near the grave and said that total disappearance of a body was most unlikely over that timescale. He said that extreme conditions which could remove bone would also have removed the coffin handles which were found.
To date, the whereabouts of Cardinal Newman's body is unknown.