Lickey Hills Local History Society
The Society
The Lickey Hills Local History Society was formed in 1972 to promote and encourage the study of the history of Cofton Hackett, Barnt Green, Rednal, and the Lickey. In 1987 it merged with its slightly older neighbour the Rubery Historical Society which was founded in 1967.
The three founder members were Gilbert Herbert, Margaret Mabey and the Rev Fred Myhill. Fred was our Chairman for the first 6 years, followed by Charles Blount who filled the position for the next 13 years. Though all sadly now dead, we remember them with fondness.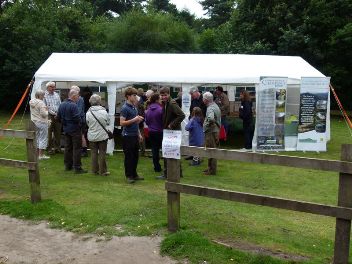 Our Logo
Our logo was designed by Margaret Mabey from a depiction of the Lickey beacon on the Sheldon Tapestry Map of Worcestershire. The tapestry was made of wool and silk and was part of a set of four maps commissioned by Ralph Sheldon for his home at Weston, Warwickshire around 1588. The other three maps depicted Oxfordshire, Warwickshire and Gloucestershire. The Bodleian Library own three of them, whilst the Warwickshire map is in the collection of Warwick Museum.
The date of the commission may explain the prominence of the beacon on the tapestry, 1588 being the year that the Spanish Armada set sail to invade England and was defeated by the English navy and the weather. Beacons, as a system of organised warning and call to arms to the county militias, had been used since at least Norman times.
Meetings are held at the Trinity Centre (Lickey Church Parish Hall) at the top of Rose Hill opposite Holy Trinity Church (B45 8ES) at 7.30pm for refreshments and an 8.00pm start by the Speaker on the third Tuesday of the month.
Annual Subscription £15 per person per season. Visitors welcome £3.00 per meeting.
George Gascoyne, Hon. Secretary. 0121 453 6320.