St Chads Park
St Chads Park is a large community recreation ground and is located between Lickey Hills Country Park and Waseley Hills Country Park.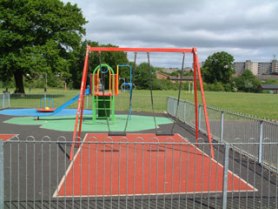 The park is bordered by residential houses and to one side runs parallel to the high street. There is a tree lined brook course running through from Whetty Lane to New Road along with a small coppiced area which was planted in 2000.
St Chads Park is a popular mullti activity site housing many facilities to attract a wide range of the community including: – skate ramps, multi Use Games Area, Bowling Green, Changing Rooms, Football Pitch, Childrens play area and outdoor gym equipment. The Site also hosts local events such as the annual Rubery Carnival and Street Theatre event.
Below is a short video made by the local youth putting the skate ramps through their paces.