Rubery in Bloom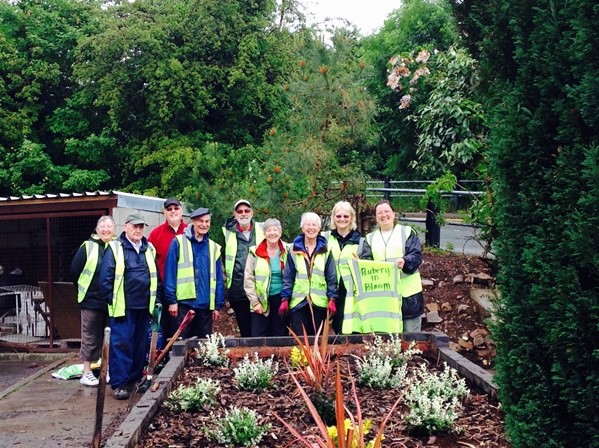 You can see from this village website what a lovely place to live Rubery is. The aims of Rubery in Bloom are to bring the community together by organising neighbourly fund raising events and other activities which will enhance the environment by making our village 'prettier, greener and cleaner'
We began in 2011 by planting daffodils and quickly followed this with flower troughs under street name signs in the Beacon Ward. We now have 147 of these flower troughs blooming across the village and hope to complete street name signs in the Waseley Ward 2017/18 if volunteers come forward to assist with this expansion.
We need your help please contact us as shown below.
During June 2015 Rubery in Bloom joined forces with Rubery Village Business Association and planted up the 10 concrete planters in the village with permanent shrubs. June 2016 the large planter on the Callowbridge/New Road corner was cleared and replanted.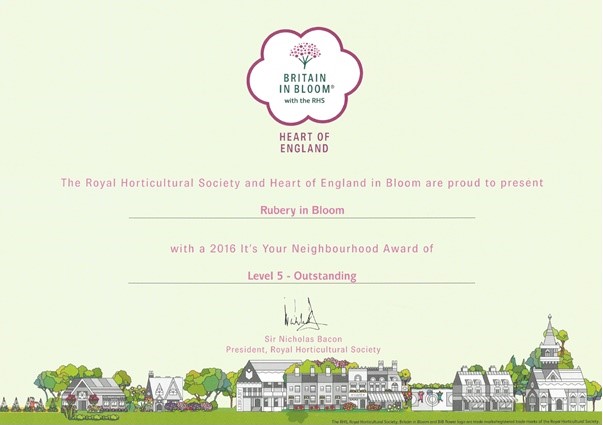 We are very pleased with 2016 Heart of England results as once again we have obtained level 5 for second year on the run- the highest award in our section.
We would love to hear from anyone else who has just an hour or two to help us during our next planting out session scheduled for the end of May. Please contact us – everyone welcome.
Rubery in Bloom Annual Events
Monday 16th January 2:00 – 5:30 Seasonal Nibbles @ Rednal Hill Lane Tickets £5 from 07742 448924
Saturday 8th July 2 – 5pm Summer Garden Party @ Beacon Hill Tickets £4 from 07742 448924
Barn Dance @ Hawthorns Social Club – October – date to be advised.
Lorna Ockendon 07742 448924 and email karensutton@sky.com