Lickey Hills
Covering an area of 524 acres the Lickey Hills Country Park is one of Birmingham's most varied and treasured parks.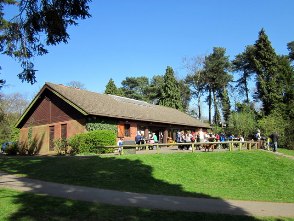 Located only 10 miles south west of Birmingham it has been enjoyed by generations of families from near and far.
The Lickey Hills Country Park offers many things to many people – a place for family fun, for walking the dog, for peace and quiet, for wildlife, walking, cycling, orienteering, golf, tennis, bowls, horse riding, school trips, or maybe just for the views and a cup of tea.
The Lickey Hills Country Park boasts a complex and interesting geology which has created a mosaic of habitats. These include woodlands, heathland and grassland along with an incredible diversity of wildlife.
Facilities
Visitor Centre – As the focal point of the Country Park, the centre is where information, books, maps, postcards and gifts can be found. Displays exhibitions and occasional craft sales are held here. There is good indoor and outdoor seating at the café which serves light snacks. WCs, including disabled facilities are located here as are the Park Rangers. The centre is located at the end of Warren Lane off Rose Hill. Staffed all year round, open daily from 10:00am until 5:50pm in the summer and 4:30pm in the winter.
Education – Birmingham Parks Ranger Service works to achieve better understanding of wildlife and the natural environment at all levels, from introductory walks and talks, Education Naturally and curriculum-linked primary programmes through to university research projects. Please follow this link to find out more or to book a school session.
Walking – The Country Park has a number of way marked trails of varying lengths and degrees of difficulty. In addition there are a multitude of minor paths and tracks that can be followed. These way marked trails along with other walks on and around the hills are included in the booklet "Lickey Hills Country Park – Great Walks" which is available for purchase at £3 from the Visitor Centre.
Horse Riding and Cycling – The Park has a series of bridleways which can be used by both horse riders and off-road cyclists. Maps of these permissive tracks are available form the Visitor Centre.
Dog Walking – Dogs must be kept under control at all times and must be kept on a lead around the visitor centre and playground. Dog Bins are available across the site. The responsibility to clean up after dogs remains with the owners and failure to comply can result in a penalty of £1,000. Free dog poop bags are available from the Visitor Centre.
Families and Children – There is a children's adventure playground and free table-tennis table near the visitor centre and close to the golf clubhouse is a tri-golf course designed for children. There are grassy areas for kite flying and other games and rounders equipment can be borrowed from the Visitor Centre.