Beacon Hill
On Beacon Hill stood one of the country-wide network of beacons which, before the days of modern communication were used to alert the country to an imminent invasion.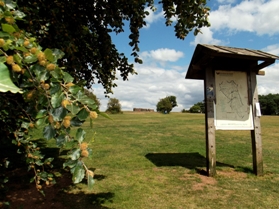 A tapestry map woven about the time of the Spanish Armada (1588) shows the huge iron basket on top of Beacon Hill where two men kept watch night and day.
During the Second World War the Army's Royal Engineers built a range of buildings on top of Beacon Hill that were used by Air Raid Wardens, who acted as fire watchers over the south of Birmingham and Royal Observer Corps aircraft spotters who activated the air raid sirens for Rednal, Rubery, Northfield, the Austin motors factory and the Austin Aero aircraft factory at Cofton Hackett. The range of buildings included a dormitory-rest room block and an open topped toilet range. The latter building, the toilet block still painted in army khaki, was located just under the cover of the tree line and remained in use by the public as late as the early 1970s.
During the extremely cold winters that affected the Birmingham area during the 1950s the northern slope of Beacon Hill was frequently covered by snow for several weeks each year and was used daily by hundreds of families for sledging. In recent years milder winters have not produced sufficient snow and the slope has been reduced in scope by housing development and expansion of the Municipal Golfcourse.
Standing on the apex of the hill, is a toposcope which was built to commemorate the gift of the land to the City of Birmingham in 1907 by the Cadbury family. The small castle-like structure that houses it was rebuilt in 1988 to celebrate the centenary of the country park. It is 298 metres (978 ft) above sea level and provides views of the city and stands adjacent to the Ordnance Survey triangulation point.
In the hills there is an obelisk commemorating the sixth Earl of Plymouth (died 1833) as gratitude for his work in forming the Worcestershire Yeomanry volunteer regiment of cavalry.